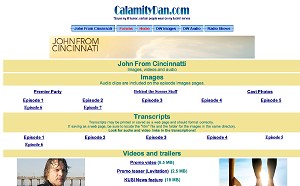 CalamityDan.com is a Deadwood fan website which has expanded to include coverage of John From Cincinnati.
The site includes an extensive archive of photos from the series and from behind the scenes, as well as full episode transcripts.
Ad blocker interference detected!
Wikia is a free-to-use site that makes money from advertising. We have a modified experience for viewers using ad blockers

Wikia is not accessible if you've made further modifications. Remove the custom ad blocker rule(s) and the page will load as expected.