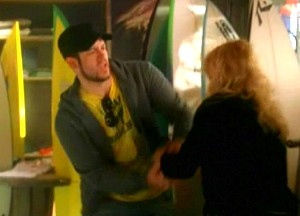 Caleb Bacon plays a reporter in "His Visit: Day Three"; he pretends to be a customer at Yost Boards, but Cissy recognizes him as a reporter, takes his camera away, and throws him out.
Bacon works behind the scenes (Script Coordinator) on John From Cincinnati. He has also worked on other HBO hits Deadwood and Big Love.
John Pontrelli, who plays the other reporter in that scene, is also a crew member (First Assistant Director.)
External links
Edit
Ad blocker interference detected!
Wikia is a free-to-use site that makes money from advertising. We have a modified experience for viewers using ad blockers

Wikia is not accessible if you've made further modifications. Remove the custom ad blocker rule(s) and the page will load as expected.