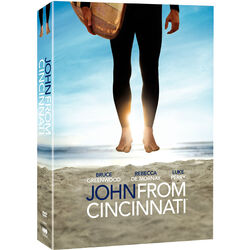 Spoiler warning: This article contains plot details about
one or more John From Cincinnati episodes.
John from Cincinnati: Complete Season 1 DVD Box Set
Edit
Release date (Region 1): April 1, 2008
English 5.1 Audio (also French 2.0 and Spanish 2.0)
English, French, and Spanish subtitles
The lives of three generations of surfers are upended by the appearance of a mysterious stranger.
Includes audio commentary with creator David Milch
Linc looks to infiltrate the Yost inner circle; Shaun competes in a surf competition, with unexpected results.
Paranormal activity continues to follow the Yosts; Mitch and Cissy take a timeout; John wows Kai.

John gets roughed up by some thugs; Kai connects with Butchie; Vietnam Joe brings Dr. Smith a new patient; Shaun's adult-film star mother Tina arrives in Imperial Beach.
Bill gets a strange mandate from Zippy.
Butchie orchestrates a reunion between Shaun and Tina; John helps Bill and Cissy face up to their pasts.
Includes bonus featurette
"Decoding John: The Making of a Dream Sequence" - behind the scenes of Episode 6
Linc's Stinkweed reign is challenged; Dwayne eyes Shaun's online future; Dr. Smith tends to an ailing Palaka; Ramon supervises the building of a shuffleboard court.
An ominous message from John strikes fear for Shaun's safety into the hearts of Imperial Beach denizens.
Attempting to conjure some courage, Mitch tracks down a reclusive "chemist" in Mexico; Cissy heads up a citywide search team; Bill loses his feathered medium; Palaka's good-luck gift to Freddy ends up with Barry.
Butchie and Kai wake up to a joyous revelation; Imperial Beach plays host to a makeshift parade organized by a revamped Stinkweed.
Includes audio commentary with creator David Milch
External links
Edit
Ad blocker interference detected!
Wikia is a free-to-use site that makes money from advertising. We have a modified experience for viewers using ad blockers

Wikia is not accessible if you've made further modifications. Remove the custom ad blocker rule(s) and the page will load as expected.