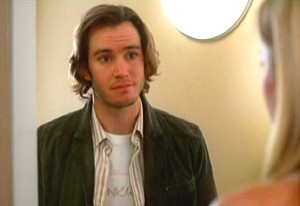 Jake Ferris is Linc's business partner in Stinkweed. He first appears in "His Visit: Day Six".
HBO Character Description
Edit
One of Linc's closest pals, and number one guy at Stinkweed, Jake's brought the company's board to meet Linc in Imperial Beach. Hoping to get things back on track, he's wholly unprepared for Linc's assertion that something miraculous transpired with Shaun Yost. With millions of dollars at stake, indulging what he perceives as Linc's mid-life crisis hardly tops Jake's priorities, yet something in him is beginning to second-guess his own pragmatic perception of the world.

[1]
References
Edit
↑ "HBO Cast & Crew: Jake Ferris", HBO.com, 2007.
Ad blocker interference detected!
Wikia is a free-to-use site that makes money from advertising. We have a modified experience for viewers using ad blockers

Wikia is not accessible if you've made further modifications. Remove the custom ad blocker rule(s) and the page will load as expected.