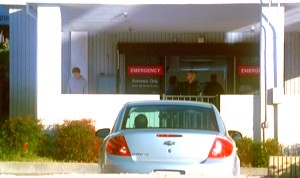 Mercy Hospital is a San Diego hospital where Shaun Yost is transported after his apparently fatal surfing accident in "His Visit: Day Two". The staff includes the sensitive and supernaturally inclined Dr. Smith, and a young, surfing enthusiast nurse.
Patients making miraculous recoveries from fatal accidents can expect prompt, personal care, including unexpected nighttime house calls.
Friends and family may stand awkwardly in the hallway, waiting for news or pretending not to know each other. A private room is provided for heated family arguments. A quick exit can be made through a side door to avoid reporters.
There is a large parking garage provided, although visiting drug dealers can often find a parking space right outside the front door.
External links
Edit