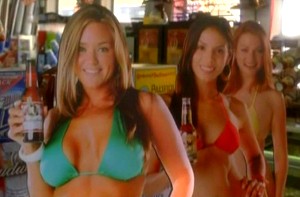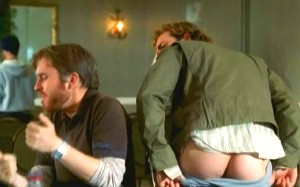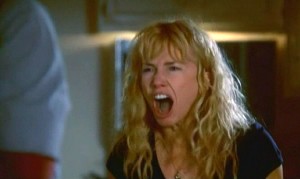 This is the complete tally for profanity and catchphrases for the series, "His Visit: Day One" through "His Visit: Day Nine".
Profanity
"Fucking": 249
"Fuck": 59
"Shit": 31
"What the fuck": 24
"Bone": 20
"God damn": 20
"Fuck you": 18
"Ass": 16
"Asshole": 15
"Balls": 14
"Piss": 11
"Dump out": 10
"Fucked up": 10
"Give a fuck": 9
"Go fuck yourself": 9
"Bullshit": 8
"Cocksucker": 8
"Take a dump": 8
"Dipshit": 7
"What the hell": 7
"Fucked": 6
"Bitch": 5
"Come on your face": 5
"Fucker": 5
"Get the fuck out": 5
"Motherfucker": 5
"Pissed off": 5
"Suck": 5
"Tits": 5
"Ball-buster": 4
"Cunt": 4
"Dick": 4
"Faggot": 4
"Fruit": 4
"Fuckin' A": 4
"Prick": 4
"Pussy": 4
"Cock": 3
"Fuck me": 3
"Hell": 3
"Nigger": 3
"Pisspot": 3
"Shitheel": 3
"Towelheads": 3
"Where the fuck": 3
"Whore": 3
"Ass-fucking": 2
"Boner": 2
"Crap machines": 2
"Friggin": 2
"Fuck you up": 2
"Fucked-up shit": 2
"Fuckup": 2
"Hell yeah": 2
"Homo": 2
"Jerk off": 2
"Jesus Fucking Christ": 2
"Joint": 2
"Meet the fucking Jetsons": 2
"Mind your own fucking business": 2
"Perv": 2
"Raghead": 2
"Shitbird": 2
"Shut the fuck up": 2
"Whipping his skippy": 2
Ass cheeks, Asslicker, Bang, Bastard, Beaner, Bitchfest, Blow job, Blow me, Blows, Bone fuckin' stupid, Box, Buttplug, Clusterfuck, Crapper, Damn, Dickhead, Douchebag, Fairy, Flip the bird, Flying fuck, For Christ's sake, For fuck's sake, Fuck film, Fuck it up, Fuckface, Fuckhead, Fucking up, Fucking vampire reptiles, Get the fuck out, Get the hell out, Half assed, Hardon, Holy shit, Kick your ass, Motherfucking Christ, No shit, Nut-nudge, Penis, Queer, Screw me, Shitbox, Shithouse, Sissy-mary, Slut, Smartass, Stinkfinger, Stupid fuck, Take a leak, Testicles, Tool, Whore: 1
John's catchphrases
"I got my eye on you": 8 times
"Shaun will soon be gone": 8
"Doesn't ring a bell": 7
"I don't know, Butchie instead": 7
"Work here, Cass": 6
"See God": 5
"Some things I know and some things I don't": 5
"The end is near": 5
"We don't remember my father's words": 4
"Mitch Yost should get back in the game": 3
"Stare me down": 3
"What do you want, Butchie Yost?": 3
"Justice must be served": 2
"My father has more big and huge for me": 2
"The internet is big": 2
"Tomorrow is another day": 2
"Those fuckin' towelheads are going to get themselves eradicated": 2
Ad blocker interference detected!
Wikia is a free-to-use site that makes money from advertising. We have a modified experience for viewers using ad blockers

Wikia is not accessible if you've made further modifications. Remove the custom ad blocker rule(s) and the page will load as expected.