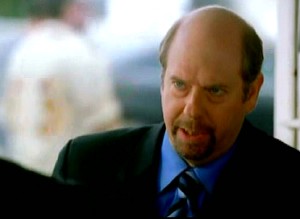 Stephen Tobolowsky plays Mark Lewinsky, Mercy Hospital's liability attorney.
Tobolowsky is a character actor who's played small but memorable roles in a number of films, including Ned Ryerson in Groundhog Day and Sammy Jankis in Memento. His television roles include guest spots on dozens of shows, including Desperate Housewives, Curb Your Enthusiasm, The West Wing and CSI: Miami.
He also had a recurring role on David Milch's previous HBO series, Deadwood, as Hugo Jarry.
Tobolowsky was the subject of a hilarious documentary film entitled Stephen Toblowsky's Birthday Party. Most of the film consisted of Toblowsky telling stories about things that had happened to him through the years, as he's preparing for a birthday dinner party he's throwing that evening. -- Gatorlynn 15 August 2007
External links
Edit
Ad blocker interference detected!
Wikia is a free-to-use site that makes money from advertising. We have a modified experience for viewers using ad blockers

Wikia is not accessible if you've made further modifications. Remove the custom ad blocker rule(s) and the page will load as expected.