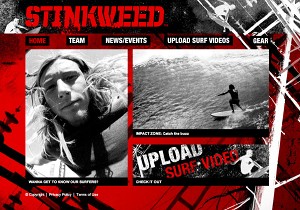 StinkweedUSA.com is a promo website run by HBO, purporting to be Linc Stark's company, Stinkweed. The address for the site was printed on a banner behind Linc in the closing sequence of "His Visit: Day One".
The site currently lists six people on the Stinkweed team, at least some of whom are real-life pro surfers: Sage, Dean, Dave, Sean Fowler, James Pribram, and Mahealani.
JFC References
Edit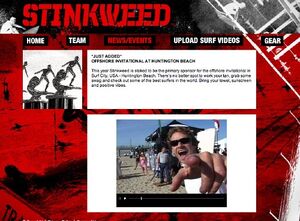 A quote from Linc on the News/Events page: "We know the web is gonna be huge and we think building a community of surfers is what this company has always been about."
Sage's profile says that Mitch Yost is one the surfers who made the greatest impact on him. Sage mentions that there are pictures of Mitch in his prime at YostClan.com.
A video has been posted in News/Events, under "Offshore Invitational at Huntington Beach". In the video, shot at the Huntington Beach competition in "His Visit: Day Two", Linc boasts that Stinkweed is going to become a major player in surfing worldwide: "This year, Huntington Beach is the spot. Next year, who knows? We're thinking about Imperial Beach, taking it way down south, maybe inviting some of them brothers from the other side of the border to come up and show us what they got. I mean, that's the beauty of the sport. Two-thirds of this planet is covered in water; you can go to so many countries, and so many places -- and wherever you go, Stinkweed's gonna be there." The video also includes shots of Shaun and Kai -- plus a shot of girls in bikinis playfully touching each other, indicating the level of exploitation that Linc is willing to use.