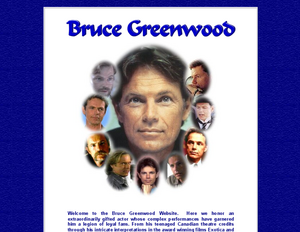 The Bruce Greenwood Website is a long-running fan website devoted to the life and career of Bruce Greenwood, who stars as Mitch Yost on John From Cincinnati. The site was founded in 2000, and is still kept up-to-date by the webmaster, Pamela McKay. The site is produced with Greenwood's knowledge and cooperation.
The website includes biographical information and a full credit list, a collection of interviews with Greenwood, and a library of photos. There is also a section devoted to Greenwood's songwriting and recording career. A "Fan Connection" section collects memories and photos from Greenwood fans.
External links
Edit
Ad blocker interference detected!
Wikia is a free-to-use site that makes money from advertising. We have a modified experience for viewers using ad blockers

Wikia is not accessible if you've made further modifications. Remove the custom ad blocker rule(s) and the page will load as expected.