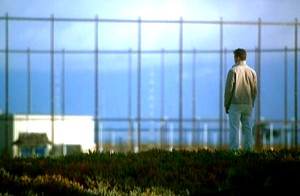 John often looks at the array (that stadium-looking thing surrounded by the high fence). He gazes at it from the nearby field in "His Visit: Day Three". He looks at it through the binoculars on the end of the pier in "His Visit: Day Two".
In "His Visit: Day Six", on the day he says he's going to spend with his father, he just stands neaby and gazes. At the end of the day, he's suddenly in a wetsuit and (for lack of a better word) materializes in various places, finally to go surfing with Butchie and Shaun.
A little web research says that facility is a Cold War era listening station. It wasn't clear what it listened for and if it had anything to do with space. It also seems that the spot might also be a place where a meteor struck at some point.
What does this suggest about John? Is he phoning home? Where are they leading us with this?
What do you think? Post your ideas!
Please sign in before adding a comment.
Type four tildes ~~~~ at the end of your post;
that automatically adds a signature.
Ad blocker interference detected!
Wikia is a free-to-use site that makes money from advertising. We have a modified experience for viewers using ad blockers

Wikia is not accessible if you've made further modifications. Remove the custom ad blocker rule(s) and the page will load as expected.